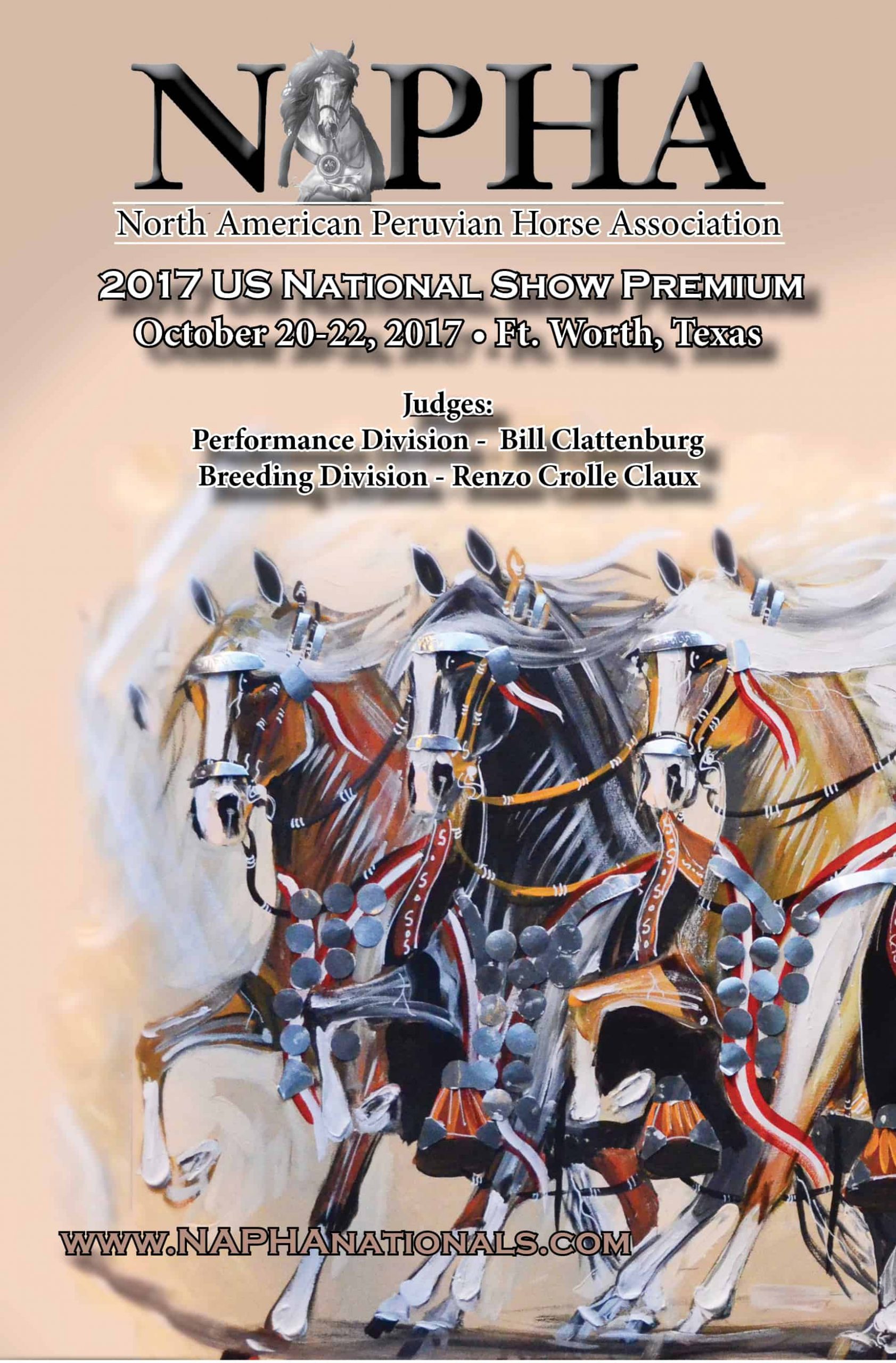 The NAPHA Board of Directors and the 2017 US National Show Committee are excited to welcome you to Ft. Worth for this year's show! The 2017 US National Show Premium is posted online HERE. It will be mailed out this week to all 2017 NAPHA members.  The NAPHA office is accepting entries via fax, email, and regular post. Pre-entries are due September 27th, 2017 by 3 PM PST
The show committee has several exciting events planned to showcase the Peruvian Horse at our National show. Thursday evening, October 19th, we will start with a Judges Meet & Greet on the arena concourse at the John Justin Arena, where appetizers will be served.  A cash bar will also be available.
Friday evening, October 20th, we will have our "Leather & Lace" dinner to celebrate several of our long time members.  Tickets can be purchased on your show entries, or through the NAPHA Store if you are not showing horses.
We plan to have a lovely evening performance Saturday night showcasing our 2016 Medallon de Plata & Region award winners, lifetime Medallon de Oro, Bronce & Diamante winners, as well as exciting entertainment acts & competitions.
Please make plans to join us in Ft. Worth, TX.
Join us for the NAPHA National Show Banquet –  Friday evening, Oct. 20, 2017, at the Backstage Club of the Will Rogers Coliseum.  The Banquet will be catered by Reata Restaurant. Price per person $50.00
Be sure to purchase your ticket(s) by Friday, Oct. 13th, 2017, by going to the NAPHA website –www.napha.com – then click on the NAPHA Store link
We have blocks at three hotels in Ft. Worth. Find all the rates and reservation information here.
The show committee is hard at work filling class sponsorships for the show! Class sponsorships can be purchase online at the NAPHA Store, or you can contact Arlynda at the NAPHA office to sign up to sponsor a class. Every sponsorship helps NAPHA & the national show. Sponsors who sign up by September 27th will be listed in the official show program.
The 2017  Star Sponsorship Packages are here! Filled with unique choices that give you incredible value for your advertising dollars. We have created a menu of promotional items so that you may customize your package to suit your special needs. Additional items have been added to the menu that will also serve to enhance your online ranch promotions as well. Packages have been designed to be affordable to all of our exhibitors beginning as low as $350! Individual items are available for purchase as well.